New York City has long been renowned for its vibrant culinary scene, and in recent years, the city's bakeries have been at the forefront of a delightful craze. From innovative creations like the cronut to traditional favourites with a modern twist, these bakeries have captured the hearts and taste buds of locals and tourists alike. Let's take a journey through time and explore the evolution of New York's bakery craze.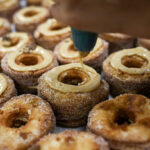 The cronut, a fusion of a croissant and a donut, took the city by storm in 2013. Created by Dominique Ansel at his eponymous bakery, this flaky and fried pastry instantly became a sensation. The cronut's popularity was fueled by its limited availability, with customers lining up as early as 5 a.m. to secure their daily quota. Its delectable layers and unique flavours made it an instant hit and a symbol of New York's bakery revolution.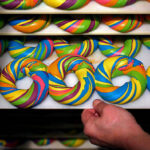 In 2016, The Bagel Store in Brooklyn introduced the world to the rainbow bagel. Bursting with vibrant colours and flavours, this eye-catching creation became an Instagram sensation. The process involved dyeing the dough before it was rolled and baked, resulting in a playful and visually stunning bagel. Topped with a variety of cream cheese spreads, the rainbow bagel brought a whimsical twist to the classic New York staple.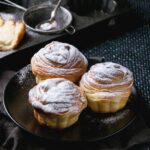 As the cronut frenzy persisted, other bakeries began to put their own spin on this innovative treat. In 2017, Supermoon Bakehouse in the Lower East Side introduced the «cruffin» – a hybrid of a croissant and a muffin. These flaky pastries filled with various creamy and flavorful fillings quickly gained popularity, adding to the ever-growing lineup of cronut-inspired creations.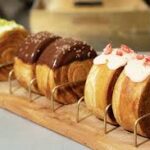 In 2019, the Union Fare bakery in Manhattan unleashed its show-stopping creation known as the «Supreme Croissant.» Inspired by the iconic Supreme logo, this croissant was decked out in vibrant red icing and adorned with the brand's distinctive box logo. The Supreme Croissant embodied the intersection of streetwear culture and culinary art, captivating both food and fashion enthusiasts alike.
Glossary:
Craze: Locura, fiebre
Cronut: Cronut (croissant + donut)
Cruffin: Cruffin (croissant + muffin)
Decked out: Engalanado/a
Delectable: Delicioso/a
Filling: Relleno
Flaky: Escamoso/a, hojaldrado/a
Icing: Glaseado
Staple: Alimento básico
Whimsical: Caprichoso/a