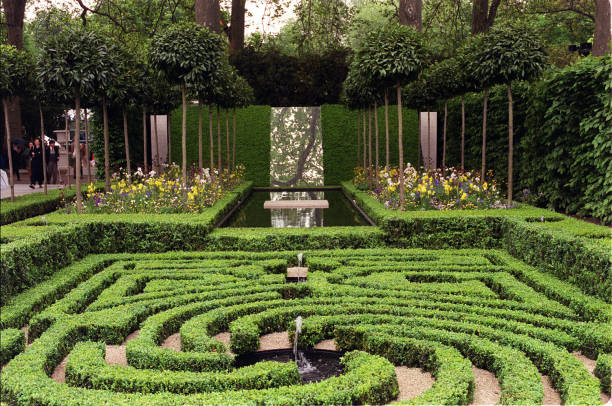 In the charming countryside of Britain, where rolling hills and quaint cottages coalesce, there lies a deep-rooted passion for gardening that has thrived for centuries. From the aristocrats of yesteryears to the modern green thumbs, Britain's love affair with gardening is deeply ingrained in its cultural fabric. The nation's penchant for tending to plants, flowers, and shrubs has grown into a beautiful garden of traditions, community, and flourishing landscapes.
The English idiom having green fingers perfectly captures the innate talent of the British when it comes to gardening. Whether it's a small window box garden or an expansive country estate, you can bet that every inch of soil will be meticulously cared for. In cities like London, where space is at a premium, people ingeniously manage to create urban oases – small patches of greenery that act as havens amidst the bustling chaos of city life.
As the seasons change, so do the gardening pursuits. In spring, the streets are adorned with blossoms of every colour, like a riot of colours bursting forth after the winter's slumber. One might say that Britain's gardens spring to life with an array of daffodils, tulips, and cherry blossoms, creating a picturesque scene that delights locals and visitors alike.
Come summertime, the nation revels in the lazy gardening phase, where the warm sun and balmy weather beckon gardeners to relax amongst their well-tended lawns. It's a time for putting one's feet up and admiring the fruits of their labour – a time for sitting back and smelling the roses.
However, a gardener's job is never truly done. The looming autumn calls for putting one's shoulder to the wheel, as falling leaves become a canvas for vibrant foliage. The practice of composting garden waste is akin to the adage waste not, want not, reflecting the British sensibility for resourcefulness.
Gardening in Britain is more than just a solitary pursuit; it fosters a strong sense of community. Local gardening clubs, fondly referred to as potting sheds, serve as gathering spots for enthusiasts to exchange gardening tips and experiences. These clubs provide fertile grounds for lasting friendships to bloom, as they cultivate the seeds of camaraderie and shared passions.
The Royal Horticultural Society (RHS) stands tall as a symbol of Britain's gardening legacy. Established in 1804, it has been instrumental in promoting gardening excellence and organising horticultural shows like the world-renowned Chelsea Flower Show. To win a medal at this event is a testament to a gardener's dedication and skill – a feather in one's cap and an honour that is cherished.
The love for gardening extends to the royal family as well, with Queen Elizabeth II herself being an avid gardener. Her own garden at Buckingham Palace is a hidden gem, showcasing her passion for preserving biodiversity and wildlife conservation.
As technology progresses, so too does gardening. Britons have embraced modern innovations like hydroponics and aeroponics, adopting a forward-thinking approach towards sustainability. With a growing awareness of environmental concerns, sustainable practices like permaculture and companion planting have taken root, ensuring that gardens flourish harmoniously with nature.
Glossary:
Companion planting: Cultivo en asociación (planting different species together to enhance growth)
Feather in one's cap: Logro
Green fingers: Buena mano con las plantas
Putting one's feet up: Relajarse
Putting one's shoulder to the wheel: Arrimar el hombro
Riot of colours: Alboroto de colores (vibrant display of colours)
Smelling the roses: Apreciar lo bueno
Spring to life: Cobrar vida
Waste not, want not: Quien guarda siempre halla