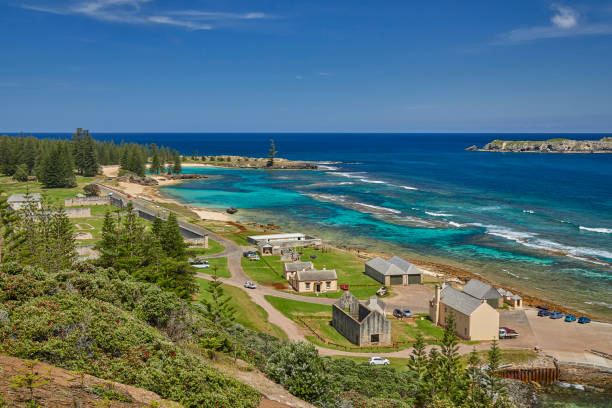 Australia's history as a penal colony is a captivating chapter that unveils a tale of convicts, resilience, and transformation. The continent's colonisation by the British in the late 18th century marked the beginning of an extraordinary era, where Australia was established as a haven for outcasts and lawbreakers. This article delves into the fascinating story of Australia's origins as a penal colony, exploring its impact on the land, its people, and its eventual evolution into a modern nation.
The British decision to transport convicts to Australia emerged from a dire need to alleviate overcrowded prisons back home. In 1788, the First Fleet, led by Captain Arthur Phillip, arrived on the shores of Botany Bay, New South Wales, with over 700 convicts on board. This event set in motion a series of voyages that would bring thousands more convicts to the distant continent over the following decades.
Life as a convict in Australia was harsh and demanding. Many were sentenced to hard labour, toiling in chain gangs and enduring gruelling conditions in remote penal settlements. The vastness of the Australian landscape presented both challenges and opportunities for these prisoners, as they carved out a new existence in a foreign and unforgiving land.
Over time, the penal colony expanded beyond New South Wales, reaching other parts of Australia. Convict labour played a significant role in the development of infrastructure, with convicts building roads, bridges, and public buildings. The labour-intensive projects transformed the landscape and shaped the emerging colonies, leaving a lasting imprint on Australia's physical and cultural heritage.
As the number of free settlers increased, tensions arose between them and the convict population. The stigmatisation of convicts and their descendants created a societal divide that persisted for many years. However, as the colony grew, it gradually shifted away from its original purpose as a penal settlement, paving the way for a new chapter in Australia's history.
The abolishment of transportation in the mid-19th century marked a turning point in Australia's trajectory. With an end to the influx of convicts, the focus shifted towards building a free society. This period saw a surge in immigration from various parts of the world, bringing diverse cultures and traditions that would shape the nation's multicultural identity.
Today, Australia stands as a modern and prosperous nation, a far cry from its humble origins as a penal colony. The struggles and triumphs of the convicts and early settlers have laid the foundation for a vibrant and resilient society. The scars of the past are evident, but they have become woven into the fabric of Australian identity, serving as a reminder of the nation's capacity for growth and reinvention.
Glossary:
A far cry from – muy diferente de
Carve out – Forjar
Fabric – Tejido
Gruelling – Agotador
Haven – Refugio
Influx – Afluencia
Lawbreakers – Delincuentes
Outcasts – Marginados
Set in motion – Poner en marcha
Societal divide – Brecha social
Toiling – Trabajar arduamente