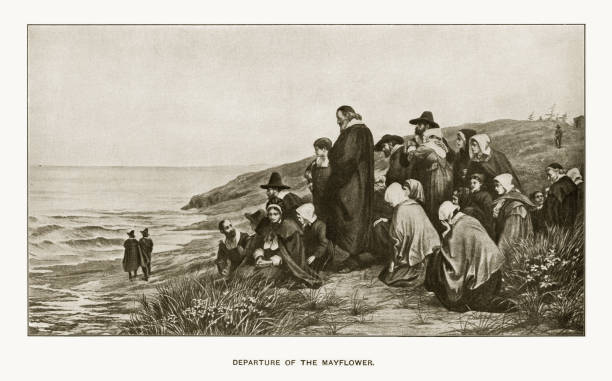 The story of the US Pilgrims is one of the most captivating chapters in American history. These intrepid individuals embarked on a perilous voyage in search of religious freedom and a fresh start in the New World. This article looks into their arduous journey, highlighting their unwavering determination, and their lasting impact on American society.
Setting Sail: Against All Odds
In the early 17th century, a group of English Separatists, known as the Pilgrims, set their sights on America. Faced with religious persecution and longing for a place where they could practise their faith freely, they decided to chart a course for the New World. Despite daunting challenges, they resolved to cast off from their homeland, leaving behind familiar shores and embarking on an adventure like no other.
Navigating Stormy Waters
The Pilgrims faced treacherous seas and turbulent weather during their voyage. They battled against towering waves, clinging to hope as they weathered the storms. They persevered through adversity, holding on to their dreams of establishing a colony where they could worship without fear of persecution.
Surviving the Voyage
Against all odds, the Pilgrims made it through the harrowing journey. They weathered the storm, often described as «between a rock and a hard place,» braving the unknown with unwavering resolve. Their perseverance and unity helped them navigate the rough waters of the Atlantic, eventually reaching the shores of Plymouth, Massachusetts.
A Fresh Start
Arriving in Plymouth in 1620, the Pilgrims faced a harsh and unfamiliar landscape. They rolled up their sleeves and set about building a settlement, metaphorically «laying the foundation» for a new life. Their hard work and determination allowed them to establish a foothold in the New World, cultivating the land and forging connections with the Native American inhabitants.
Building Bridges
The Pilgrims recognized the importance of building bridges with the Native American tribes. They sought to «reach out» and establish peaceful relations, fostering a spirit of cooperation and understanding. Through «breaking down barriers» and «building up trust,» they formed alliances that were instrumental in their survival during the early years in Plymouth.
One of the most enduring legacies of the Pilgrims is the Thanksgiving holiday. In the autumn of 1621, the Pilgrims and Native Americans came together for a bountiful feast, expressing their gratitude for a successful harvest. This tradition has been passed down through generations, serving as a reminder of the Pilgrims' resilience and their ability to find common ground in the face of adversity.
Glossary:
Against all odds: Contra todo pronóstico
Between a rock and a hard place: Entre la espada y la pared
Building up trust: Generar confianza
Cast off: Zarpar
Chart a course: Trazar un rumbo
Fresh start: Nuevo comienzo
Harrowing journey: Viaje angustiante
Hold on to: Aferrarse a
Lay the foundation: Sentar las bases
Reach out: Tener acercamiento
Roll up their sleeves: Arremangarse las mangas
Weather the storm: Sobrellevar la tormenta