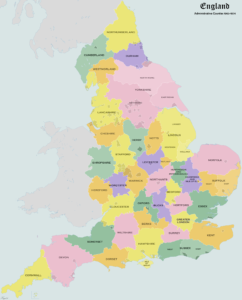 England, the largest country within the United Kingdom, is known for its rich history, diverse landscapes, and vibrant cities. The country is divided into 48 counties, each with its own distinct character and attractions. From the picturesque countryside to bustling urban centers, England's counties offer a wide range of experiences for visitors and residents alike. In this article, we will explore some of the notable counties of England, highlighting their unique features and cultural significance.
Greater London
Starting with the capital city, Greater London is both a city and a county. Home to iconic landmarks such as the Tower of London, Buckingham Palace, and the British Museum, London is a global hub of culture, art, and commerce. With its bustling streets, diverse neighborhoods, and world-class museums, London offers a truly immersive experience for visitors.
Cornwall
Located in the southwestern part of England, Cornwall is renowned for its stunning coastline, sandy beaches, and picturesque fishing villages. The county is also famous for its rich mining history and mystical legends associated with King Arthur. Visitors can explore landmarks like Tintagel Castle, the Eden Project, and the beautiful St. Ives Bay.
Yorkshire
Known for its rugged landscapes and charming villages, Yorkshire is the largest county in England. The region offers a mix of natural beauty, historic sites, and cultural heritage. The Yorkshire Dales and North York Moors national parks provide opportunities for hiking and outdoor activities, while cities like York and Leeds showcase medieval architecture and vibrant cultural scenes.
Devon
Devon, situated in the southwest, boasts a diverse range of attractions, including sandy beaches, rolling hills, and national parks. The county is home to Dartmoor National Park, famous for its stunning moorland landscapes and prehistoric sites. Visitors can also enjoy the quaint seaside towns of Torquay, Paignton, and Exmouth.
Norfolk
Located on the east coast of England, Norfolk offers a unique blend of natural beauty and historical charm. The county is renowned for its extensive network of navigable waterways known as The Broads, which provide opportunities for boating and wildlife spotting. Visitors can also explore historic sites such as Norwich Cathedral and Sandringham House, the private residence of the British royal family.
Warwickshire
Warwickshire, situated in the heart of England, is known for its rich literary and historical heritage. The county is home to Stratford-upon-Avon, the birthplace of William Shakespeare. Visitors can explore Shakespeare's Birthplace, Anne Hathaway's Cottage, and the Royal Shakespeare Theatre. Warwick Castle, one of the best-preserved medieval castles in the country, is also a popular attraction.
Cumbria
Cumbria, located in the northwest, is a county known for its stunning natural landscapes, including the Lake District National Park. With its picturesque lakes, mountains, and charming villages, the Lake District offers endless opportunities for hiking, boating, and immersing oneself in nature. The county is also home to Hadrian's Wall, a UNESCO World Heritage site dating back to Roman times.
England's counties are a treasure trove of history, natural beauty, and cultural experiences. Whether you prefer exploring bustling cities, idyllic countryside, or coastal regions, there is something for everyone in England's diverse counties. From the cosmopolitan charm of London to the tranquil beauty of the Lake District, each county offers a unique slice of English culture and heritage.
Glossary:
Birthplace: Lugar de nacimiento
County: Condado
Historical charm: Encanto histórico
Landmark: Monumento histórico
Literary heritage: Patrimonio literario
Moors: Páramos
Rugged landscapes: Paisajes agrestes
UNESCO World Heritage site: Sitio del Patrimonio Mundial de la UNESCO
Waterways: Vías fluviales
Wildlife spotting: Observación de vida silvestre