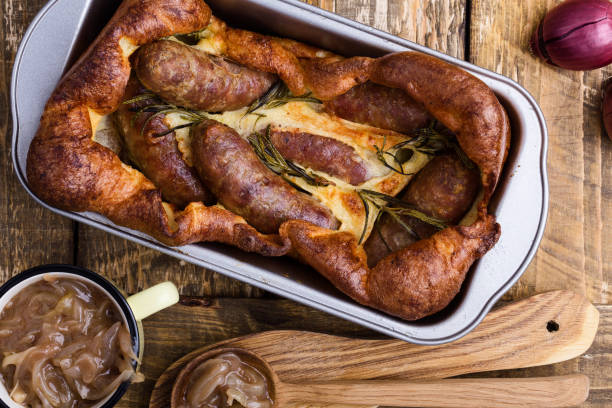 When it comes to world-renowned cuisine, many people often overlook the offerings of English cooking. Classic English cuisine has long been plagued by unfair stereotypes, often associated with bland and uninspired dishes. However, it's time to debunk this myth and shed light on the rich and diverse culinary heritage of England. From hearty pies to delectable puddings, English cuisine has much to offer in terms of taste and tradition. In this article, we will explore some of the iconic dishes of English cuisine and challenge the misconceptions that surround them. Additionally, we will include a popular and unusual recipe that showcases the creativity and innovation found in English cooking.
The Iconic Dishes of English Cuisine
Fish and Chips
Fish and chips are a quintessential British dish, enjoyed by people across the country. While it may seem like a simple combination of fried fish and potato chips, there is an art to perfecting this dish. The fish is traditionally coated in a light batter and deep-fried until crispy, while the chips are thick-cut and cooked until golden brown. It is often served with mushy peas and tartar sauce, providing a satisfying and comforting meal.
Roast Beef and Yorkshire Pudding
Roast beef and Yorkshire pudding is a classic Sunday lunch in England. The beef is slow-roasted to perfection, resulting in a tender and flavorful centrepiece for the meal. Accompanying the roast beef is the iconic Yorkshire pudding, a savoury pastry made from a batter of eggs, flour, and milk. This crispy, golden-brown delight is perfect for soaking up the rich gravy that accompanies the dish.
Full English Breakfast
The full English breakfast is a hearty morning meal that has become an institution in British culture. It typically includes bacon, sausages, eggs, grilled tomatoes, mushrooms, baked beans, and toast. While it may be a heavy meal, it provides the energy needed to kick-start the day. It is often enjoyed on weekends or as a treat on special occasions.
Shepherd's Pie
Shepherd's pie is a comforting and filling dish that combines ground lamb or beef with a layer of mashed potatoes. The meat is cooked with onions, carrots, and peas, and then topped with a generous layer of mashed potatoes before being baked until golden and bubbling. This dish exemplifies the warmth and wholesomeness of English home cooking.
Beef Wellington
Beef Wellington is a true showstopper of English cuisine. It consists of a tender beef fillet coated with pâté and wrapped in puff pastry. The pastry is then baked until golden and flaky, resulting in a dish that is both visually stunning and delicious. Beef Wellington is often served as a centrepiece for special occasions or festive meals.
English cuisine has been unfairly characterised as bland and uninspired, but this reputation does not accurately represent the variety and creativity found in traditional English dishes. The use of fresh and locally sourced ingredients is a fundamental aspect of English cooking. Furthermore, the influence of historical trade routes and cultural exchanges has brought a range of flavours and spices to the English culinary scene.
To challenge the perception of English cuisine further, let us explore an unusual yet delightful dish called Toad in the Hole. Contrary to its name, this dish does not involve any toads! Instead, it is a savoury creation featuring sausages baked in a batter. The result is a dish with crispy edges and a soft, fluffy interior. It is typically served with onion gravy and accompanied by vegetables like peas or roasted root vegetables. Toad in the Hole is a popular choice for a comforting and satisfying meal, perfect for a cosy evening at home.
Recipe for Toad in the Hole:
Ingredients:
8 pork sausages
1 cup all-purpose flour
1 cup milk
2 eggs
1 tablespoon vegetable oil
Salt and pepper to taste
Instructions:
Preheat the oven to 425°F (220°C).
Place the sausages in a baking dish and drizzle with vegetable oil. Bake for 10 minutes until lightly browned.
While the sausages are baking, prepare the batter. In a mixing bowl, whisk together the flour, milk, eggs, salt, and pepper until smooth.
Carefully remove the baking dish from the oven and pour the batter over the sausages, ensuring they are evenly covered.
Return the dish to the oven and bake for an additional 25-30 minutes or until the batter has risen and turned golden brown.
Once cooked, remove the dish from the oven and serve the Toad in the Hole with onion gravy and your choice of vegetables.
Glossary:
Batter – masa
Fluffy – Esponjoso
Mushy Peas – Guisantes aplastados
Onion Gravy – Salsa de cebolla
Overlook – Pasar por alto
Puff pastry – Hojaldre
Quintessential – Por antonomasia
Shed light – Arrojar luz
Showstopper – Sensación
Whisk – Batir