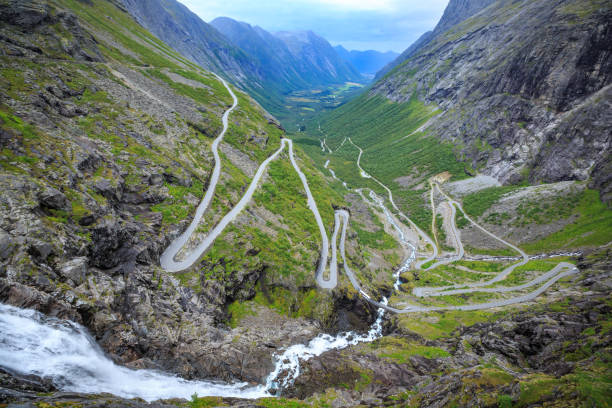 Journeying along perilous routes often requires an intrepid spirit and nerves of steel. Throughout the world, there are roads that test the limits of human resilience and challenge even the most experienced drivers. In this article, we will embark on a virtual expedition to explore some of the world's most treacherous roads, delving into their unique dangers and breathtaking landscapes. From the heart-stopping cliffs of Bolivia's Yungas Road to the mesmerising hairpin turns of Norway's Trollstigen, these roads will leave you in awe of both the wonders and risks that exist on our planet.
Yungas Road, Bolivia
Known as «Death Road,» Yungas Road in Bolivia has earned its infamous reputation as one of the most dangerous roads in the world. This 43-mile stretch of unpaved, narrow road winds through the Yungas region, presenting a daunting challenge to all who dare to traverse it. The perilous drops of over 2,000 feet and the treacherous hairpin turns make Yungas Road an adrenaline-fueled adventure for thrill-seekers. Despite improvements made over the years, the road remains hazardous, demanding unwavering concentration and skill from drivers.
Guoliang Tunnel Road, China
Carved out of a mountainside in the Henan Province of China, the Guoliang Tunnel Road is an engineering marvel and a nerve-wracking passage. Constructed by a group of local villagers in the 1970s, this narrow, rock-cut tunnel offers an arduous journey through the Taihang Mountains. With its dimly lit interior and uneven surfaces, the road poses significant challenges to motorists. However, the awe-inspiring vistas that await at the tunnel's exit make it a popular destination for brave adventurers.
North Yungas Road, Bolivia
Another treacherous route in Bolivia, the North Yungas Road, connects La Paz to the town of Coroico. This narrow, winding road, also known as the «Road of Death,» has claimed numerous lives due to its sheer cliffs, unpredictable weather conditions, and limited visibility. The absence of guardrails and the constant risk of landslides make it a hazardous path to navigate. Nonetheless, the awe-inspiring views of lush green valleys and deep canyons provide a sense of beauty amidst the danger.
Trollstigen, Norway
Trollstigen, meaning «Troll's Path,» is a breathtaking mountain road in Norway renowned for its hairpin turns and awe-inspiring scenery. Nestled in the rugged terrain of the Rauma Municipality, this serpentine road offers a thrilling driving experience while providing panoramic views of cascading waterfalls and towering mountains. However, the steep inclines, sharp curves, and unpredictable weather conditions demand utmost caution and skilled driving. A visit to Trollstigen is an unforgettable adventure that combines the thrill of conquering challenging roads with the natural splendour of Norway.
Glossary:
Awe-inspiring – Impresionante
Cliff – Acantilado
Dimly lit – Pobremente iluminado/a
Hairpin turn – Curva cerrada
Inclines – Pendientes
Landslides – Deslizamientos de tierra
Nerve-wracking – Estresante
Treacherous – Traicionero/a
Uneven surfaces – Superficies irregulares
Unpaved – Sin pavimentar