In our gastronomic adventures, we often encounter dishes that push the boundaries of what we consider «normal» when it comes to food. From peculiar delicacies to peculiar ingredients, the world is filled with culinary surprises that cater to adventurous palates. Join us as we uncover some of the strangest foods found across the globe.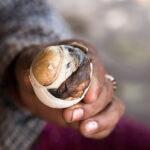 Balut: A Delicacy with a Twist.
Originating from the Philippines, balut takes the concept of «eating eggs» to a whole new level. This fertilised duck egg is cooked and eaten with gusto, shell and all. Daring eaters «crack open» the egg and «dig into» the partially-formed duck embryo, savouring the mix of flavours and textures. While it may «raise eyebrows,» balut remains a favourite street food in the Philippines.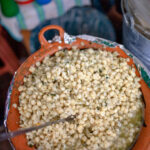 Escamoles: Ant Larvae on Your Plate.
In Mexico, adventurous foodies can indulge in escamoles, or ant larvae, considered a delicacy in certain regions. These tiny white eggs are «harvested» from the nests of black ants and are often pan-fried or used as a filling in tacos. Despite their appearance, escamoles offer a unique nutty flavour that «tantalises» the taste buds of those brave enough to try them.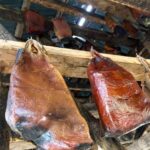 Hákarl: Fermented Shark Surprise
If you find yourself in Iceland, don't miss the chance to «tackle» hákarl, a traditional dish made from fermented Greenland shark meat. The meat is hung to dry for several months, resulting in an incredibly pungent odour that «turns heads» and «clears sinuses.» Although the smell may be off-putting, the taste is an acquired delight, described as a mix of ammonia and cheese.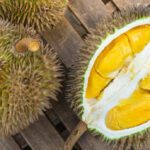 Durian: The Infamous «King of Fruits»
No article on strange foods would be complete without mentioning durian, the «notorious» tropical fruit from Southeast Asia. Known for its distinctive odour, often described as a mix of rotten onions and gym socks, the fruit is loved by some and loathed by others. Despite its divisive aroma, those who «dare to try» durian are rewarded with a creamy, custard-like flesh that is uniquely sweet.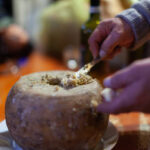 Casu Marzu: Maggot-Infested Cheese
Italy brings us Casu Marzu, a cheese that takes fermentation to a whole new level. This Sardinian specialty intentionally infests pecorino cheese with live maggots, which «feast on» the cheese and transform its texture. As daring eaters «take on» this cheese, they also «run the risk» of the maggots «jumping around» in their mouths. However, enthusiasts praise the cheese for its intense flavour and «mouthwatering» richness.
These peculiar foods from around the world offer a glimpse into the diverse and unconventional culinary traditions that exist. Whether you're intrigued or repulsed, these delicacies «spice up» the global food scene and provide unforgettable dining experiences for the adventurous at heart.
Glossary:
Cater to – Satisfacer las necesidades de
Clears sinuses – Despeja los senos nasales
Dare to try – Atreverse a probar
Dig into – Hincarle el diente a
Feast on – Darse un banquete
Mouthwatering – Apetitoso
Notorious – Infame
Push the boundaries – Romper los límites
Raise eyebrows – Causar sorpresa
Tackle – Enfrentarse a
Tantalize – Tentar
Turns heads – Llama la atención